Join us as we kickoff our Girls in Tech PHX one-of-a-kind monthly mentorship event! Come meet like-minded women and tech enthusiasts in a relaxed setting to connect, network, inspire, and gain career-building relationships. This event is targeted to tech professionals, all genders welcome!  
Who should attend: If you are passionate about advancing your career in tech and supporting women, this event is for YOU.
This event is strategically designed to promote mentorship by forming connections with one another that encourage professional and personal growth. Mentorship is not an everyday activity and includes a variety of expertise from industry specific to leadership to workplace politics. It is a support system you can call on when you need help, advice, or a new skill set.
It is hard to advance one's career in tech, but we want to shift that conversation and talk about how we can make it easier. We'll talk about:
– what you can do on any day, in life or at work, to make it easier for you and others
– how to promote positive change
– how to get involved
March Featured Mentor: Neema Uthappa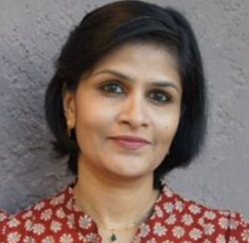 Neema Uthappa was born and raised in Coorg, a picturesque countryside in Southern India, also known as the Scotland of India. Brought up in a tight-knit family and influenced by a culture considered unique even in a country as diverse as India, she has always boldly ventured down the road less traveled. An engineer by education, Neema began her career as one of the 1st three executive woman officer in the Indian Navy, followed by stints in key management roles across various industries such as Banking & Financial, Utility and now Healthcare. She is currently working as Director, Automation Group at McKesson and also serves as a Board Member for GIT, Phoenix Neema has always sought simplicity in life, breaking things down to basics. Her creative mindset has inspired her to pursue such varied interests such as painting, wine making, art work, and now writing. Neema's adventures and observations form an integral part of her story telling, and provide insight into how our experiences help us learn, grow, and thrive.
Neema will talk about reflective leadership, a leadership practice she shared in her book The Cinderella Elephant,  to help you tap into your lived experience to progress.
Schedule of event:
5:30 pm: Registration and networking
6:00 pm: Short interview with influential leader in tech
6:35 pm: Breakout group conversation
7:00 pm: Wrap-up!